Fiona's Story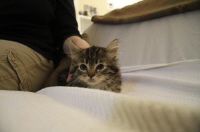 Fiona is a precious little kitten with multiple health problems.  I rescued her from a cat hoarding situation in the area.  She has serious digestive problems, dwarfism and lack of growth which was all due to inbreeding.  There is no allopathic treatment for her problems and most veterinarians would suggest euthanasia.  
I started working with her holistically using homeopathic treatments and I am happy to report that she is doing much better.  She has a long way to go, but her health is slowly improving and she now has a quality of life here at Healing Hope Cat Sanctuary. 
Please watch the video below for Fiona's amazing story. 

Please share this special Healing Hope story with your friends and family.